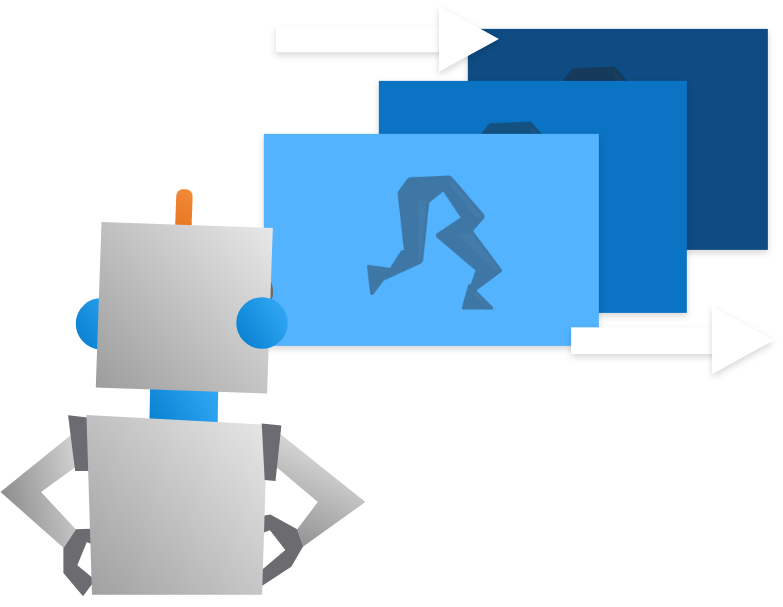 Get a feel for working with us.
Our approach helps us be efficient during the project keeping you in the loop each step of the way. Our measure of success means never hearing you say, "what's the next step."
About Us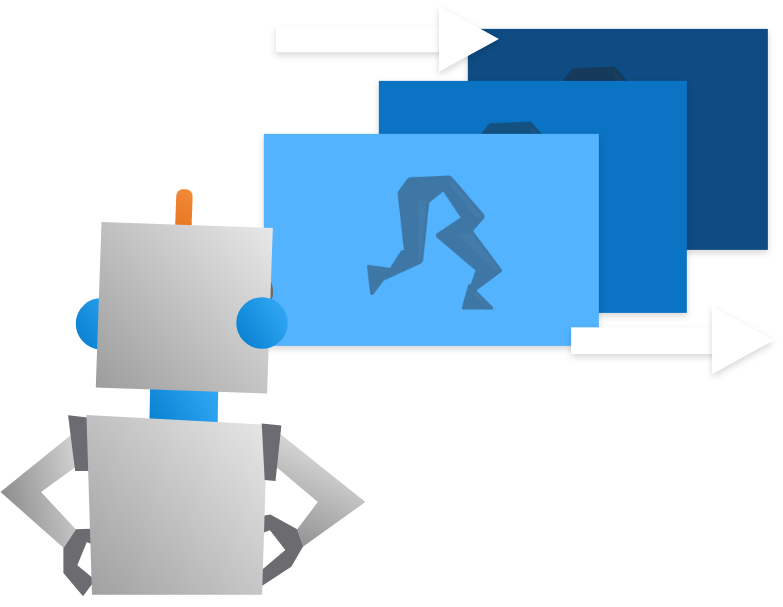 Phase 1 | Discovery
The new website will offer solutions to your target audience that drive them deeper into the website content. In essence, your website will act as a salesperson for your organization. Running Robots's research methods help us better understand audience motivators, behaviors, and perceptions, which enables us to craft creative content that drives results.
Website Questionnaire
A questionnaire will be provided to give us a better understanding of your business. The results will determine your perception of customer challenges, which will enable us to address the following questions:
GOALS
How will you know if your site is successful?
POSITION
How do you want customers to perceive you?
ENGAGE
How would you like your customers to interact with your brand?
AUDIENCE
Who is your target market?
Discovery Meeting
A discovery meeting to strategize with key members from your organization will be scheduled to determine the direction for the project. Running Robots will work with your subject matter experts to map out the benefits unique to you which will be leveraged to enhance the user experience. We'll also train you on how to use our site map system. (Slickplan)
Within this discovery phase, we'll work to understand the features and requirements necessary for the project.
Phase 2 | Content
Content Gathering Meeting (On-site)
During the Content Gathering meeting, we'll discuss the best way to organize your content so your customers can navigate the new site quickly and easily.
Site Map
The site map will demonstrate how the pages are organized. This is a key component of the website creation process and will act as a repository for your content. This step helps us understand what makes you…you.
This is where you gather all the text, facts, product descriptions, figures, images, videos, and infographics you want on your new site to create a blueprint of your new site. You decide what's most important and how to organize all of your content in the website structure.
Mission Plan
After the Running Robots team evaluates the components and strategy, our team will develop a Mission Plan from the content you've provided. This plan contains the overall strategic blueprint for the website.
Phase 3 | Design
One of our primary goals is to develop a graphical representation that defines your business and separates you from the competition. As a result, memorable experiences will be designed which drive users' actions to create revenue for you.
Our design process is unique.
We start with one design concept. This enables us to fully invest our creative efforts on a specific design rather than spending time on multiple compositions that will not be used. We've found this process brings better value to clients by saving time, resources, and dollars.
Reviews
Once the design concept is complete, Running Robots will review it with you to gain a better understanding of which elements of the design you like and which ones you would like to see revised. You will have three rounds of changes to the website.
Phase 3.5 | E-Commerce
A well-designed e-commerce website must tell a story and create a trust that drives sales. When done effectively, browsing products, checking out, and account creation will be a breeze for customers. When they're ready to make their purchase, the website holds their hand the entire way to your payday.
Phase 4 | Website Build
Fasten your seat belts, we're going into hyperdrive. Running Robots will begin executing the build-out of the approved concept from Phase 3 on a WordPress platform.
(WYSIWYG) Drag-and-Drop Page Editor
Our design platform is very simple and it's easy to add or edit pages on your own. We are strong believers in do-it-yourself edits.
Forms & Data Capture
Gravity forms plugin will be implemented to email and record all of the entered data. The forms and polls entries can be integrated with other third-party software (Mailchimp + Active Campaign). Form fields can be easily edited and managed via the administration panel.
Social Media Integration
Links will be embedded on the website to direct users to the social media platforms.
Mobile/Tablet-Friendly Menu and Header
A menu that best fits your company's needs and goals.
Phase 5 | Testing
Once your site is built and the creative team has signed off, we'll begin to test the website. The following steps are taken on each website produced by Running Robots.
Internal links
These links direct users to pages on the same website. This testing ensures the internal links direct the user to the expected page.
External links
These links direct users to the pages of external websites. This testing ensures the external links direct the user to the expected website pages. It also ensures they will open in a new tab.
Email links
If the user clicks on the email listed in the text, the link will open the default email client and should open with the "To" address pre-filled. This testing ensures all email links are working properly.
Broken links
Such links don't direct users to any internal or external pages. This will cause a 404-page error on the site. This testing ensures all broken links are removed.
Web Forms Testing
Web forms testing is one of the most important types of tests. Consider a scenario where a user fills out an inquiry form and clicks on the submit button, but nothing happens. Web forms testing ensures consistency and checks for the required input and output controls. The testing used by Running Robots ensures the customer data is captured properly and clients aren't lost due to improperly functioning forms.
Software Performance Testing
Software performance testing is used to determine the attributes of the system, such as responsiveness, speed, scalability, and stability under a variety of load conditions. The main aim of performance testing is to get rid of bottlenecks and find out how much load or stress the site is able to sustain. Performance testing will determine response time, which refers to the time it takes the server to reply after a request is sent from a client's machine.
Site load time should be reasonable.
Site font size and spacing between lines should be easy to read.
Proper ALT Tags should be used for all images present in the website (if SEO Package is selected).
Any broken links should be repaired to prevent a 404 page error.
Compatibility Testing
Compatibility ensures the web pages are properly rendering on different browsers. It also verifies the website is working properly on different operating systems.
Here are the typical compatibility tests we use to test your website:
Test compatibility on major browsers (we design in Google Chrome)
Test compatibility on Mac & PC operating systems
Test different screen resolutions
Web Security Testing
Security testing is one of the most important types of testing that eliminates vulnerabilities or weaknesses of the website. The main objective of security testing is to find the vulnerabilities of the system and determine that its data and resources are protected from intruders. A strong password can go a long way to ensuring your site's security. 
Some of the major aspects of web security are:
Penetration testing
Password cracking
URL manipulation
SQL injection
Cross-site scripting (XSS)
Responsiveness Review
You will have one review focused on making sure your site can be easily navigated on mobile devices and tablets.
Phase 6 | Launch
Once you've tested the website and you're happy with its overall functionality, we'll send a project launch approval form. Once this document is signed, we'll port your domain over to the new site.
WordPress hosting, maintenance, and updates are included. WordPress maintenance & updates will be invoiced and renewed each year.
We create results.
When you hire us, you're hiring a team of passionate designers, developers, and conceptual producers. Even though we talk a lot about strategy, process, and approach, everything we do is rooted in a deep desire to produce something of value – for you.
We're not desperate to take just any customer, and we're not driven by a demand for ever-increasing profits. We are here to pursue our passion, and that means an honest and straightforward collaboration with you.
Client Application