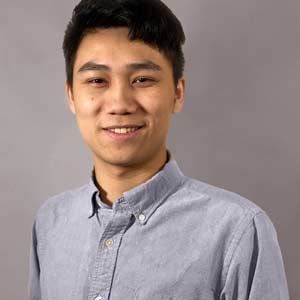 Position Title
Web Designer
Responsibilities
As a Web Designer at Running Robots, some of my responsibilities include creating low-fidelity to hi-fidelity website wireframes for incoming clients, building and developing modern responsive websites, implementing better UX experiences for the websites, and creating graphic assets.
Background Information
I'm originally from China and graduated from the University of Iowa in Fall 2019 with a double-major in Journalism & Mass Communications and Art (Graphic Design).
I started working for Running Robots in August 2019.
First Job
From June to July of 2016, I worked for an eCommerce company in China. Here I assisted their graphic designer with creating some flyers and promotional graphics for products.
Favorite Part About Being A Running Robot
Our working environment is quite flexible, our workflow is efficient, and we can share our opinions directly with the Boss! Working at Running Robots is like working at home.
Lessons Learned While Being a Running Robot
I have learned WordPress, image optimization for web, WooCommerce Integration with WordPress, building mobile apps with OnCell, and Basic SEO.
Goofy Memory Had With the Running Robots Team
We have two cute dogs in the office!!!!
Tif will send a compilation of memes that she found fun to our iMessage group chat on a bi-weekly or monthly basis, and I love it!
More Interesting Facts
I enjoy all tech-related things, and I am a big fan of Apple and Google products
I enjoy learning new things in my spare time. I am watching hot to code with Python and Swift tutorials online at the moment
I am passionate about studying how to improve the user experience for all digital and tangible products
I will start my Human-Computer Interaction Master Program at the University of Michigan- Ann Arbor this Fall