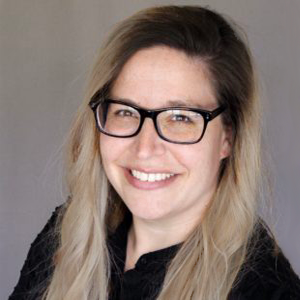 Position Title
Web Developer
Responsibilities
As a Web Developer at Running Robots, I wear a lot of hats. Some of the responsibilities I have include Support Specialist (fixing bugs and items on websites that break overtime with updates and changes that are always happening), compose our custom code needs for websites, manage our clients' hosting, maintenance and website speeds, and tending to WooCommerce needs of our new and current clients.
Background Information
I am originally from Marion, Iowa.
I'm a late bloomer to the web game. I initially started my collegiate career in the Nursing field –not a fan of blood, not sure why I thought this was a wise choice at 19 (ha!). So after figuring that out, I began working at my parent's business selling granite countertops. We didn't have a website at the time and I took it on as a project, which then opened up an interest in technology that I didn't know was there. I decided then at 25 to go back to college to get me AAS in Web Design and Development.
First Job
My first job was at Hy-Vee bagging groceries when I was 14 years old. I earned a sweet salary of $5.15 per hour. Once I turned 16, I moved into the Floral Department where my Mother was the Manager.
Favorite Part About Being A Running Robot
We all have the same goal in mind, provide the best technology, marketing solutions, and support for our small to medium-sized business clients.
Lessons Learned While Being a Running Robot
When I started at Running Robots, I said I was and will always be a Web Designer. In just over a year's time, that has evolved and helped me see that I really have a knack for code, finding and fixing bugs, and more of an analytical focus to the website world rather than design.
Running Robots' has supported my shifts in positions every time and I cannot be more grateful for a company that wants their employees to grow.
Goofy Memory Had With the Running Robots Team
It's hard to choose just one, we have had so many lovely experiences together — I would say I enjoyed our overnight stay in Ames for a seminar. We were all so exhausted by the end of the day yet still working until 10:00pm that night in our Airbnb. I know we were all laughing at every little thing we were working on that night.
More Interesting Facts
My husband and I have three dogs. Loki is a two-year-old Doberman Pinscher, Zoey is a 9-year-old Pitbull/Bulldog mix, and Duke is a 11-year-old Pitbull/Boxer mix. I enjoy spending my events and weekends with my husband, Perfecto, outside in the year with the dogs playing fetch, sitting around the bonfire, or hopping in our pool.
Fun Fact: I am also the team's provider of memes. Just to keep us up to date on the internet. 😉