Optimizing Keyword Performance & Match Types
Listen to the audio version of this blog:
Every online marketing strategy revolves around keywords. The right keywords bring in the right audience, and therefore, a successful Google Ads campaign relies on choosing keywords that perform well. Week 3 of our Google Ads tutorial series is here, and it's all about the vitality of Keyword Performance and Match Types. We will analyze how to evaluate your keyword performance, adjust keyword match types, and employ these insights to amplify your marketing efforts.


Understanding Keyword Performance
Keywords act as bridges that connect your prospective customers to your business. They play an integral part in your Google Ads campaign. Evaluating the performance of these keywords helps determine whether your ads reach the right audience or merely drift in the digital sea.
1. The Importance of Performance Analysis:
Without analyzing the performance, you might not know if a keyword is leading to clicks, conversions, or if it's merely wasting your budget. The goal of analyzing keyword performance is to spend money on keywords that convert, and less or no money on those that don't.
2. Using Google Ads Keyword Report:
Google Ads provides comprehensive keyword performance reports. It gives details like the number of impressions, clicks, cost, conversion rate, etc., for each keyword. Regularly checking these reports gives a clear picture of which keywords work best for your campaign.
3. Conversion Tracking
Google Ads offers conversion tracking that allows you to see what happens after a customer clicks on your ad. This is crucial to understanding if your keywords are leading to valuable customer actions like purchases, sign-ups, or phone calls.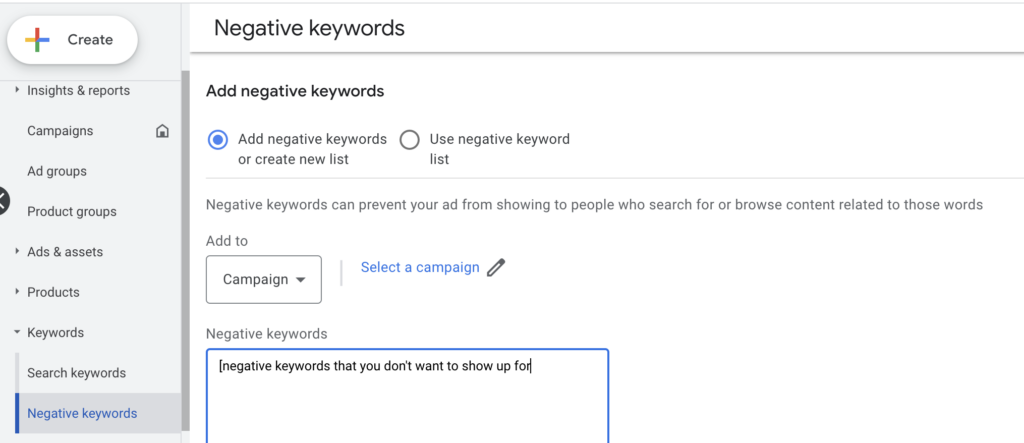 Tweaking Keywords Match Types
Google Ads has various keyword match types: broad match, phrase match, exact match, and negative match. Each match type gives you different levels of control over which searches can trigger your ad.
1. Broad Match
This is the default match type that reaches the widest audience. Your ad might show up for searches that include misspellings, synonyms, related searches, and other relevant variations. While it offers extensive reach, it might also include irrelevant clicks.
2. Phrase Match
Your ad is eligible to appear when a user's search contains your key phrase in the exact order. It's less broad than a broad match and gives more control.
3. Exact Match
This match type triggers your ads only when the exact phrase is used in the search. It gives the highest level of control and is suitable for high-converting keywords.
4. Negative Keywords
This match type prevents your ad from showing for certain words or phrases. It helps exclude irrelevant clicks and save your budget.
Making Your Keywords Work For You
After understanding keyword performance and tweaking match types, it's time to put this knowledge to use.
1. Favoring High-Performing Keywords
If some keywords are performing exceptionally well, consider utilizing them more in your campaign. Increase their bids to enhance their visibility and conversion rate.
2. Cutting Off Underperforming Keywords
Keywords with low click-through rate (CTR), high cost per click (CPC), or poor Quality Score might be draining your budget. Consider reducing their use or removing them from your campaign.
3. Adjusting Match Types
Based on your analysis, you may need to switch keyword match types. High-performing keywords can be shifted to exact match to maximize ROI, while broad match can be used for exploratory purposes.
4. Constant Monitoring and Tweaking
Keywords are not a one-and-done deal. They require constant monitoring and tweaking to ensure optimal performance. Remember, a well-maintained keyword list can greatly improve your campaign performance.
Wrapping It Up For Week 3
In conclusion, there's no room for guesswork in a successful Google Ads campaign. By leveraging the power of keyword performance analysis and match type optimization, you can ensure your ads reach the right audience, thus maximizing your return on investment.
Stay tuned for the next installment of our Google Ads series, where we delve deeper into the nuances of ad scheduling and geo-targeting. Until then, happy optimizing!
If you need help with any aspect your Digital Marketing including website design, Hosting or Maintenance, SEO, PPC, GA4 setup or AI implementation Book A Free Consultation With Us Today!